Pedestrian Crosswalk Safety System
Pedestrian Crosswalk Safety System
Click Play Button Below To See Our Pedestrian Crosswalk Safety System In Action!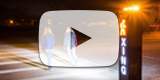 According to the Governors Highway Safety Association, the number of pedestrian fatalities in the U.S. has increased 25% since 2010 and nearly 6,000 pedestrian fatalities occurred within the U.S. during 2016. Our one-of-a-kind Pedestrian Crossing Safety System offers a revolutionary solution for protecting pedestrians crossing paths with motor vehicles and will help reduce these climbing pedestrian fatality rates.
Due to its multiple warning signals that operate in unison to alert approaching drivers, from a distance, of pedestrians traversing the roadway, our LED-illuminated Pedestrian Crossing Safety System design is unique to any other pedestrian crossing warning system available today. Studies show increased crosswalk lighting aids in the visibility of crossing pedestrians by cautioning approaching drivers of activity in the roadway. Crosswalk lights also act as a guide for crossing pedestrians by illuminating the crosswalk, directing them across the safest section of street passage. The ultra-bright crosswalk light in conjunction with the other attention-grabbing pedestrian warning signals makes Howard Industries' Pedestrian Crossing Safety System the best choice in pedestrian safety.
These pedestrian crossing warning signals include:
Ultra-bright energy-efficient, long-lasting LED illumination; Wide angle pure white (7000K) beam projects over 16 feet into roadway
Not only does this beam of light attract driver attention, it also provides an illuminated guide for pedestrians in the crosswalk
LED strobing light heads
With both driver and pedestrian facing views, these flashing, attention-grabbing beacons notify drivers and pedestrians of unit activation
7 Inch LED illuminated "XING" copy
Extremely bright LED illuminated "XING" copy alerts drivers of crossing pedestrians in the crosswalk both day and night
Outdoor blank-out LED direct-view amber wide angle pedestrian symbol sign
Highly-visible, permanently flashing pedestrian icon warns drivers to approach crosswalk with caution
---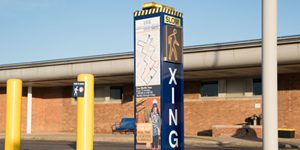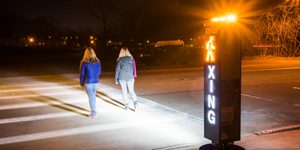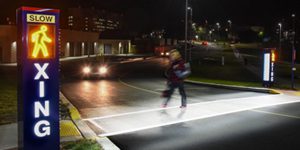 Product Information

Additional definitive features of our Pedestrian Crosswalk Safety System setting it apart from all other pedestrian traffic control devices include:
Louvered design to direct crosswalk lighting for increased driver and pedestrian safety
Adjustable base plate allows an accurate angled placement of projecting light into crosswalk
Custom designs to match branding specifications
Ability to incorporate wayfinding signage elements for better facility navigation as well as safety
Sold as a set or individual unit configurations
Redundant LED lighting design to maintain illumination in the event of single component failure
Available in a variety of control options
UL rated construction
5 Year Warranty
These Systems Offer More Than Just Pedestrian Safety
In addition to their safety function, our Pedestrian Crossing Signs offer a unique way for facilities and institutions to display and reinforce their brand image throughout the exterior of their property. These signs can be custom painted using brand specific colors, adorned with printed logos, utilized to display campus maps, provide directional information and more. Due to their multi-functional purposes, these signs are ideal for colleges, universities, healthcare facilities, senior living environments and beyond.


Get Your Quote